Smashtasm Wiki was created on August 28, 2008, by BBsmasn5. Today, there are 96 articles on Smashtasm Wiki.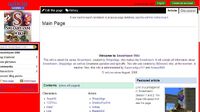 Main Page
Edit
The Main Page consists of a welcome statement, a featured media, a featured article, news, and help.
Featured Media
Edit
The featured media is an image selected by an admin, followed by a short caption telling the viewer what the image is. There has been three featured images so far (Bubbles, Lamp, and Mega32).
Featured Article
Edit
The featured article is an article selected by an admin, followed by a short caption telling the viewer what the article is. There has been three featured articles so far(Super64, Shippiddge, and the Hack-Ban.
Admins/Bureaucrats
Edit
You may be looking for Admins of Smashtasm For the Special page, see Special:ListUsers/sysop and Special:ListUsers/Bureaucrats.
The first Admin was BBsman5. He then gave adminship to Supercoolguy147 who then gave adminship to Arceus3000. All three admins are also Bureaucrats. Admins can protect articles, delete articles, edit the interface menu and block users. Bureaucrats can do the same but they can also appoint other users to adminship.
The first logo said "The Smashtasm Wiki" on it. "The" and "Wiki" looked like they were hand written. "Smashtasm" is the logo. The background was black.
The present logo is a bit different. The word "The" has been removed and the word "Wiki" is in the same font as "Smashtasm". The background show a picture of Super64, 1337Fox, Link and Killa7

Ad blocker interference detected!
Wikia is a free-to-use site that makes money from advertising. We have a modified experience for viewers using ad blockers

Wikia is not accessible if you've made further modifications. Remove the custom ad blocker rule(s) and the page will load as expected.